Siren
biography
I'm a singer/songwriter and love to get caught up in the inspirational vibe of creating music!!!!!!! Weeeeeeeeeeeeee
0

I have finally saved enough money and found the time to record more songs in a studio! Yay! Stay tuned for my upcoming album 'Attic'
1

April 9th, 2012 + 11:04 PM
·

Siren
Do I choose music or do I choose an academic career?
Why does it have to be one or the other?
Academics is intellectually stimulating, but music is my lover.
Why is there no time for both?
Isn't time a social construction?
By this logic we should have created paradise
instead of destruction.
0

September 9th, 2007 + 9:09 PM
·

Siren
Weeeeeee was a lot of fun and it was so good to meet some of you face to face and then jam out together!!! Taka, you are very talented and very much enjoyed listening to you rock out at least 3 different instuments! There ares some good bandamp samples out there somewhere from this party nudge nudge [;)] [;)] , but I only have a video. Is there a place to put videos up here? It was also a great pleasure to meet the fish at last!!! I feel like I've known him a long time - especially after all those late night skype parties lol! It was awesome to meet Nakedtoes and Jim and to have Flyer phone in and say hello!!!! Also, thanks to spoon for hosting such a fun party - she usually knows how to get the party started! [8)] you rock ! I had a blast !!! Would like to hear some of the festivities some day, but until then ....who wants to host next year? [;)] I'll go now and put up some pics, but i guess I won't put up faces - so there's only couple pics up.!
Comments (0)
0

July 25th, 2007 + 4:07 PM
·

Siren
Just wondering what people thought. Which songs here on da amp need new recordings?
0

June 20th, 2007 + 2:06 PM
·

Siren
I had my first band practice in a loooong time! I think the throat is better now! yay! we're working towards our next gig - July 21st at my stag and doe lol! Still not sure if I can make it to the north american bandamp party though
3

April 17th, 2016 + 10:04 PM
·

Siren
It is about whatever you want it to be about! I think this is my best recording to date, enjoy! 2015
0

The enemy is my inner me, or so I'm told
but what if I like to go with the flow, and just watch it unfold?
But can I guide it my way, can I, drive it on the highway?
Can I take the right exit and not get a ticket?

Is truth something inside or is it up in the sky?
Or is it something that I gotta see with my own two eyes?
But what I see is constructed and preconceived and socialized.

Where the truth lies Where the truth lies
Where the truth lies Where the truth lies.

Do I follow along with conformity or do I wonder off internally
Where emotion and reason are valued equally?
But I live in a prison called reality.

Where the truth lies Where the truth lies Where the truth lies
Where the truth lies Where the truth lies It's a real disguise.
2

Taking your constructive criticism into account, more harmonies have been added etc. Thank-you for your feedback, let me know what you think!
7

June 30th, 2015 + 6:06 PM
·

Siren
New song- the mandatory love song off the new album
3

This is an older so I have not recorded...until now! Enjoy! =)
Alias:
Siren
Status: Offline
Threads:
22
Posts:
234
Songs:
19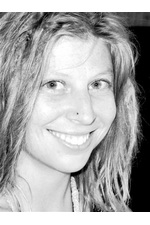 Joined: May 30th, 2006
Last login: October 06th, 2018
My Messengers
| | |
| --- | --- |
| AIM: | n/a |
| ICQ: | n/a |
| Skype: | n/a |